The hard work begins now for Southampton as the season now heads into the penultimate month of the season. It was a very good February for the current Championship leaders picking up an impressive 11 points out of an available 15 which included a vital draw at West Ham and comfortable victories against Derby and Watford. The games come thick and fast as Nigel Adkins and his team gear up for an exciting and vital period at the club with only 13 games left before the season ends on April 28.
Southampton returned to the top of the nPower Championship with a storming 3-0 victory away at Watford where Rickie Lambert was in the headlines once again achieving his third hat-trick this season. Before the season even began, many critics believed that the Liverpudlian wouldn't carry on his goal-scoring form into the second tier however he has taken the league by storm with an incredible 23 goals which 19 of them have come in the league. The former Bristol Rovers striker, who turned 30 last month, has proved his critics wrong and vows to continue his fantastic form to get his current club back to the Premier League. "It's going well for me. I've worked really hard for it to go so well and I'm obviously happy that it is going so well, but I was pretty sure it was going to go the way that it has."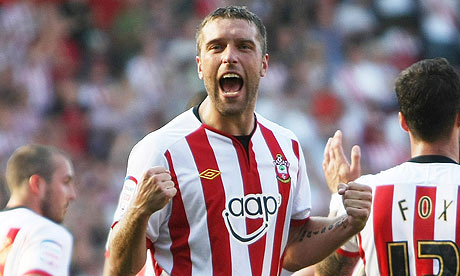 HITTING THE TREBLES: Rickie Lambert celebrates his
hat-trick at Watford last weekend
Up next for the Saints is the trip to Elland Road to face a Leeds United side who recently appointed Neil Warnock as their new manager two weeks ago to replace Simon Grayson. It will be Warnock's first home game in charge of the Yorkshire club who still have promotion ambitions of their own to get back to the Premier League where they lie in 10th place trailing the play-off pack by four points. It will be a difficult game for both teams which should have the feel of a great contest which we will see the Championship at its best. Southampton are looking to do the double over Leeds for the first time since the 2006/2007 season after a comfortable 3-1 victory over the Lilywhites at St. Mary's on the opening day of the season after goals from Dean Hammond, Adam Lallana and David Connolly put the Saints 3-0 up within an hour with Max Gradel scoring from the spot for Leeds before the final whistle.
Dean Hammond against Leeds on the opening day
After this weekend's game, the Saints face a double header at St. Mary's with Ipswich and Barnsley travelling to the south coast on Tuesday and Saturday respectively where Southampton have the opportunity to continue their amazing home record having already won 13 out of 17 so far this season. Tough away trips to Millwall, Hull and Blackpool are to come later this month with a home game against strugglers Doncaster in the midst. April begins with part two of El Clasicoast at St. Mary's (depending if Portsmouth are still in business by then) and also includes vital games against their fellow promotion rivals against Reading and Middlesbrough respectively. In terms of the home games that Southampton have remaining, it has put all Saints fans into an opportunistic mindset about the possibility of returning to the Premier League.
Here are some of the reaction from fellow Saints fans regarding the run-in:
@hartysaintboy2: it's a good run in I think and I think we have a chance of promotion if we continue this form.
@RoyalTMusic: I think it's easy to get complacent over results from the start of the year but I'd be so chuffed with a top 6 finish.
@benjirice: can win the league for sure. But I think 2nd is realistic #Saintsfc I'd be disappointed if we don't go up.
@Rob_McGrattan: top two would be ideal for me, as there is too much pressure to deliver in the play-offs and I can't handle the tension.
@SaintsCorner: Should aim for at least 5 (probably 6) home wins & then if we can get 8 or so points away the title should be ours.
@Adampalmer1991: I think our fixtures look promising. I think we can win it. Disappointed with play-offs after the season we've had. COYS!
@St_Snedders: had us 3rd, 1 pt behind Birmingham on BBC predictor, however we picked up extra 2pts and Birmingham dropped 3 last Sat.