It has been a rollercoaster ride for Jason Puncheon during his Southampton career. It was a possibility that Saints fans would never see him play in the famous red and white stripes again, after his controversial outburst at executive chairman, Nicola Cortese, on the social media site, Twitter. Since his reprieve by Cortese back in January, Puncheon has certainly repaid the Italian and manager Nigel Adkins for his performances so far this season.
The 26-year-old has been a completely new signing according to the majority of the St. Mary's faithful and it is hard to disagree with them. He and summer recruit, Nathaniel Clyne, have teamed up tremendously on the right for the Saints, who have been a constant threat to their opponents. Puncheon has three goals registered to his name to date this season, and has shown his determination to contribute a lot more to the squad. It's easy to talk about the present. However, Puncheon's career at Southampton hasn't exactly been plain sailing.
The Croydon-born midfielder first signed for the Saints back in January 2010 by Alan Pardew for an undisclosed fee from Plymouth Argyle, where the club were working their way up the League One table, after starting with a ten point deduction. Puncheon scored in his first two matches for his new club, against Walsall and Huddersfield respectively. However, the Saints failed to reach the play-offs that season.
The 2010-2011 season would be a frustrating time for Puncheon, as he lost his place in the team to the latest player to come off the production line at the Saints academy, Alex Oxlade-Chamberlain. Current Saints boss, Nigel Adkins, was frustrated by Puncheon's performances and was soon on the move to Millwall in an emergency-loan-deal in November 2010. After a successful spell in South London, he then joined Blackpool in January 2011 but he was unable to help them avoid relegation from the Premier League. Before the start of the 2011-2012 season, Puncheon's future was in doubt as he wasn't given a squad number at St. Mary's which provided the catalyst for him to sign for Queens Park Rangers on loan until January 2012.
It was a few weeks later after his loan at Loftus Road that
Puncheon really shot himself in the foot, as he publicly criticised Nicola Cortese on Twitter
. His career at St. Mary's looked as if it was coming to an end. The fans weren't happy with his online antics either, as they were calling for him to leave the club. A few days later, the former Barnet and MK Dons winger apologised for his actions and was soon given a squad number by the club. It was a lucky escape for Puncheon, as Cortese is not the type of man you want to get on the wrong side of. It was a relief to everyone involved at the club that the matter was sorted with, and Puncheon could do his talking on the pitch.
It has been a successful campaign so far for Puncheon who has contributed superbly to the team, including scoring the winner against fellow strugglers, Reading, last weekend. As his form keeps improving, Southampton have to consider giving Puncheon a new contract, as his current deal runs out at the end of the season. Millwall and Blackpool both expressed interest last season, but neither could match Southampton's asking price for the player. From recent interviews, Puncheon seems to be enjoying his football again which was easy to see in recent games, especially against QPR and Reading. Nigel Adkins has hailed Puncheon by saying: "He's good, he's matured, he's had a good pre-season with us, he's come back, it's a fresh start if you like and he's grasped it with both hands. It just shows how if you work very hard, adapt to the culture you're surrounded with, and grow and mature – and he's done that."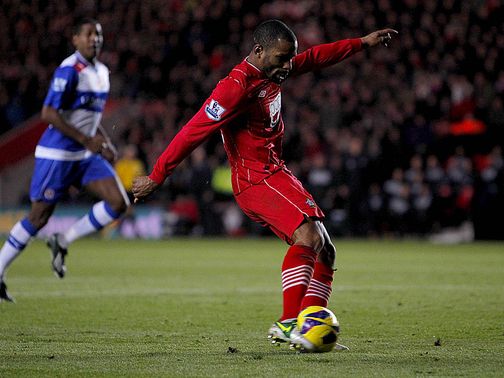 In conclusion, Puncheon has been outstanding for Southampton as yet and there is more to come from the winger. His career at St. Mary's has been interesting to say the least. However, he has now become an integral part of the squad. From being the bad boy to the mature man that he now is, Puncheon will be looking to lift the Saints away from the relegation zone come the end of the season, and even get on the score-sheet again. As previously mentioned, the link-up play with Clyne has looked really threatening when Southampton are on the attack which will continue to trouble defenders alike. Everyone makes mistakes in their lives including Puncheon, but what is most important is that he is taking his new opportunity to help the club move up the Premier League. It is vital that Southampton offer him a new contract, as he will be a wanted man.