If you mention the name of Harry Redknapp around the streets of Southampton, there will be a guarantee of moans filled with anger, disgust and enrage. This Saturday sees the former Saints boss take his QPR side to St. Mary's in a crucial six-pointer towards the bottom of the Premier League. It will be the first time Redknapp will have returned to Southampton after his disastrous tenure between December 2004 and December 2005.
Let's start from the beginning shall we? Redknapp took local rivals Portsmouth up to the Premier League in 2003 and it seemed it was going well for the folk down the road. However, towards the end of 2004, the 65-year-old fell out with then Pompey chairman, Milan Mandaric over the possibility of bringing in Velimir Zajec as executive director. On November 24 2004, Redknapp resigned as Pompey boss. He was asked by the media if he would manage at Southampton. His reply was: "I will not go down the road – no chance."
You can probably guess what happened next. Two weeks later, Redknapp was appointed as Southampton manager on an 18-month deal replacing Steve Wigley. On his arrival, Redknapp said: "I am delighted to join Southampton. The squad is better than their position suggests and I look forward to getting them up the table." From then on, it would be an on-going decline in what would be one of the worst periods in the club's history.
This will annoy Mandaric than ever before!
His first game in charge was at home to Middlesbrough. It was going so well with goals from Kevin Phillips and future England international, Peter Crouch. Then, the popular trend of conceding late goals began for the Saints as a Danny Higginbotham own goal and a Stewart Downing long-range strike rescued a point for Boro. To be honest, things weren't going to get any better from then on. In the January transfer window, he brought in Calum Davenport on-loan from Tottenham, where Redknapp declared him as a "highly-rated defender", Olivier Bernard from Newcastle, Nigel Quashie from Portsmouth, Henri Camara on loan from Wolves and finally, his son Jamie, to try and help the sinking ship. Southampton sold their best striker in James Beattie to Everton in the same month which would be pivotal as the season went on.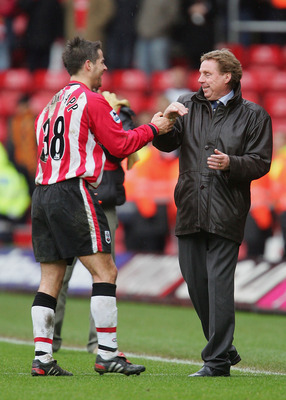 Despite the amount of signings brought in during January, Southampton's form didn't improve as they kept drawing at home and losing away apart from the odd home wins against Liverpool and Tottenham. Their only away win came at Middlesbrough with Crouch scoring twice in a 3-1 victory. As pointed out earlier, the amount of draws Saints were getting was worrying for everybody to see. Many were beginning to question if Redknapp was actually up for the job in keeping the club in the top flight. Week after week of disappointment, late goals were denying the Saints of vital wins which could have saved their Premier League status. The squad was capable of staying up. However, something was not quite right.
Going into the last two months of the season, Saints lost their first three matches in April before drawing away at Bolton. Next up, was the South Coast Derby at Fratton Park. That day epitomised the season as a whole as the Saints were thrashed 4-1 on Redknapp's return to his "spiritual home" as described by Rupert Lowe. A seven-goal thriller at St. Mary's followed with Henri Camara scoring a late winner to give the Saints a real chance of survival. After rescuing a draw at fellow relegation rivals Crystal Palace, Southampton had to beat Manchester United at St. Mary's and hoped other results went their way.
The biggest day in Southampton's history since the 2003 FA Cup final arrived of what would be a day of mixed emotions. It started so well for the hosts as John O'Shea's own goal gave them the lead after ten minutes. Darren Fletcher equalised before Ruud van Nistelrooy sealed Southampton's place to the Championship. I remember watching the game on TV where I was in a state of shock and felt something that I have never experienced in my life as a Saints fan; relegation. The images of the St. Mary's faithful after the match just said it all. Hurt, distraught and the reality of playing in the Championship was too much for some. Suddenly, the appointment of Redknapp was looking a total failure as he had the pressure of trying to get the Saints back to the Premier League at the first attempt.
Southampton started life outside the Premier League with a home match against Wolves, which was famous for the introduction of no other than Theo Walcott, who at 16 years and 143 days, became the youngest ever player to play for the Saints. In truth, Walcott was the only promising aspect to come out of the 2005/2006 season. Despite a decent start of picking up ten points out of a possible 15 from their first five matches, the popular trend of drawing games came back to haunt the Saints as they drew their next eight matches. Yes eight!! Only two more wins followed for Southampton before Redknapp resigned on December 3rd 2005 after the 1-1 draw with Burnley.
During a really rough patch in the club's history when Rupert Lowe was chairman, he decided that former England rugby coach Sir Clive Woodward would join the backroom staff at the club. An incredible decision that Redknapp wasn't best pleased with. Simultaneously, the position for the Pompey managers post was available and guess what Redknapp did; he only went back to them! In an interview with BBC Sport, Redknapp said: "I felt once I told Southampton chairman Rupert Lowe I wanted to speak to Portsmouth, I had burned bridges at Southampton." You don't say Harry! Talking about pointing out the blinding obvious! The soap opera of Redknapp's managerial changes between one of the biggest rivalries in English football was a complete farce. George Burley took over from Redknapp and guided the Saints to a 12th place finish in the Championship. Meanwhile, Redknapp saved Portsmouth from relegation with a final-day win at Wigan.
Ever since Redknapp has appeared in the media, can anybody remember if his time at Southampton was ever mentioned in an interview of any kind? If your answer is no, then you are absolutely correct. It's like the media have closed the chapter of Redknapp's time at St. Mary's that probably won't be spoken about again. The media absolutely love Harry Redknapp and it's really hard to understand why, especially after he got away with tax evasion! The treatment of the club by the man, who celebrates his 66th birthday tomorrow, was nothing short of disgraceful. For all Saints fans, including myself, tomorrow's match is one of the biggest games since Southampton's return to the Premier League for two reasons. It is a must-win game after last week's defeat at Newcastle and it will also bring closure if we beat Redknapp's QPR for what he did at Saints. Tomorrow also sees Southampton manager Mauricio Pochettino celebrate his birthday where he will turn 41. Pochettino knows of the fans hatred of Redknapp but he insists the fans must get behind the team which I totally agree with.
Don't muck with me Redknapp!
I will conclude with a message of my own to Mr. Tax Dodger:
Tomorrow it will be your 66th birthday. However, tomorrow will also be the day where you suffer a lot of hell from every single Saints fan, including those who aren't at the match! We will never forgive you for what you did here, including bringing your over-hyped reputation and players that were simply not good enough (apart from Henri Camara) to prevent us from going down. You put us through so much discomfort. However, we have come back to the top flight better prepared with top quality players who have bags of confidence. Be careful for what you wish for, as Mauricio and his team will give you a nightmare birthday to remember and for us, closure more than anything else!
I'm not looking forward to Saturday now!