This Saturday sees a big six-pointer at the Madjeski Stadium between Reading and Southampton where it has the makings of a cracker. The two teams met back in December where the Saints won 1-0 thanks to Jason Puncheon's strike and there has been a lot that has happened since the previous fixture. Ahead of the match, I decided to get a Reading fan's viewpoint of their season so far.
Introducing ReadingFC___News; who runs an unofficial Twitter account dedicated to the Royals with the latest news at the club. He has been supporting Reading for 20 years now where he has seen a lot of ups and downs at the during that time.
What are your views on Reading's season so far?
Very disappointing. Brian McDermott did a fantastic job winning the Championship with us last season, but his loyalty to players that got the club promoted and his inability to adapt to the Premier League has cost us.
What do you think Reading have lacked in this season?
Premier League experience, both on the pitch and in terms of management. Many of our squad are arguably top end Championship players (Gorkss, Gunter, Shorey, McCleary, McAnuff, Leigertwood, Hunt - to name but a few) and they haven't been able to make the step; but due to Brian McDermott's unwavering faith in these players, we did not spend enough in the summer or in January, and are now facing an inevitable relegation back to the Championship.
Were you shocked when Brian McDermott was shown the boot?
Not shocked, more surprised by the timing of his dismissal. We should have made the change in December/January. I think the surprise comebacks in January that earned Brian McDemott the Manager of the Month only masked over the cracks, and ultimately delayed the inevitable. The change in manager was needed, sadly. Brian kept telling us he had learnt a lot this season, yet we, made the same mistakes every week. There was no sign of change, and all we heard after another disappointing result was "we move on". Brian is one of a few gentlemen in today's game, and we all feel for him; but it is a results business. We did need someone new to come in and freshen the club up, and Nigel Adkins is a fantastic appointment and one that gives us hope for an immediate return next season, and hopefully our third Championship trophy in eight years.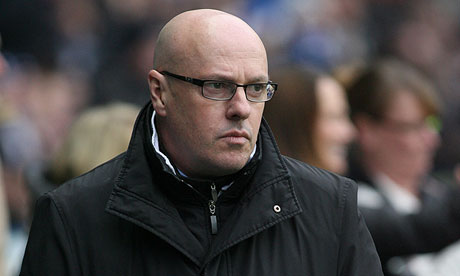 The end of an era as Brian McDermott was sacked in March
The club have now appointed former Southampton boss Nigel Adkins. What do you think of his appointment?
Delighted. Fans being fans, they wanted a big name, but you have to be realistic and we were never going to be able to attract someone like Roberto Di Matteo. Nigel Adkins has a fantastic CV. He knows what it takes to get promotion, and best of all, his teams play a brand of football, which for me, will be like watching football pornography. For me, he was the best man for the job, and I'm delighted he's here.
Can Adkins save the club from relegation?
No. Had he come in with 12 games to go, then I think we would have had a real chance, but it's far too late now. Still, most of us are realists and are now looking forward to what will be an active summer, and hopefully a good season next season.
What do you expect from the game at the Madjeski on Saturday?
I think we'll be fired up. Nigel will want to make a point to your Chairman, I'm sure; and although many of us accept we're all but down, while there are still points to be won, we will fight for every one of them. The signs were there at Arsenal that we were trying to keep the ball and move it about, but this is like teaching a 15-year-old dog how to roll over. It will take an almighty clear out and several new signings before this team can play as Nigel Adkins wants.
Steve De Ridder's late goal earned Saints a point at Reading
last season.
What have you made of Southampton so far this season?
I really like Southampton. You were a joy to watch last season with your passing attacking football. You have a good balance to your side, and Lambert has proved an amazing find for your club! Before a ball was kicked, I thought you'd be OK this season, and we would struggle - such was the difference in the teams' styles. Saints are a decent club, not all to dissimilar to Reading though I have to say, and I'll be delighted to see them stay up this season.
Out of the Southampton squad, who has caught your eye and why?
Lambert and Lallana for me. Also Shaw looks very promising. Your academy is a credit to you.
EYE-CATCHERS: Adam Lallana and Rickie Lambert
Can Reading become an established Premier League club in the future?
Yes, absolutely. The club are investing the academy to Cat 1 status, there are plans for another new training ground, as our current one doesn't quite fir the needs of Category 1. If we can stay in the Premier League for a couple of seasons, then the plans are in place to upgrade the Madjeski Stadium up to approximately 40,000. But none of this will be achievable if the new Russian owner (Anton Zingarevich) doesn't learn from this season and invest in the squad. This season has been a steep learning curve for him. Sadly, us fans have been here before though.
What is your prediction for Saturday's game?
My heart says home win, and a pinch of false hope, buy I fancy Saints coming away with a 2-0 win.
Many thanks to ReadingFC__News for taking the time to answer my questions. You can follow them on Twitter: @ReadingFC__News.