When a player joins a club from abroad, it is a big decision to make regarding their family, the language and the culture. Some players take longer than usual to settle at their new club, but this is not the case with Southampton's Dejan Lovren. The Croatian centre-back has been a huge hit with the fans since he joined from Lyon for £8.5 million in June. He scored his first goal for the club in the impressive 1-0 win at Liverpool on Saturday and after the game he tweeted:
I'm so happy, It's an amazing feeling! Thanks to all my teammates and fans for support. GO #saintsfc pic.twitter.com/fMFQ7dryoC
— Dejan Lovren (@DejanLovren05) September 21, 2013
When Mauricio Pochettino secured Lovren's services in the summer, he was getting a defender who has a wealth of experience playing in the Champions League as well as playing in France and Lovren's native Croatia, all at the age of 23. The highly-rated defender has also played for Croatia from under-17 level to the seniors where he currently has 19 caps for his country, scoring two goals, one of whom in a 2-1 victory over Wales.
Saints fans caught their first sighting on Lovren during the club's pre-season tours of Spain and Austria where the reaction was very positive. In the games that have mattered so far, Lovren has produced some outstanding performances. Southampton have been crying for a centre-back who is composed and deals with pressure superbly. He is already proving to be a leader in the heart of the defence who is part of the back-line that has the second-best defensive record in the Premier League to date, conceding just two goals. That's right, two! It's a very far cry from a year ago as Southampton were leaking goals for fun; an alarming 15 goals conceded after five games back in the Premier League.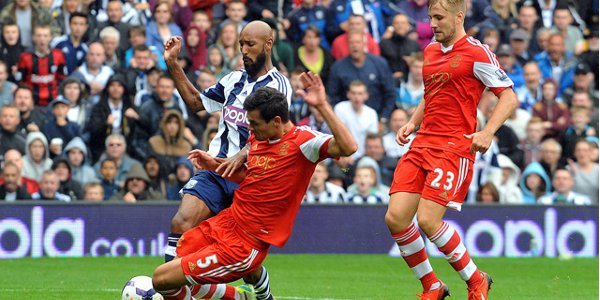 Lovren puts in a vital tackle to deny West Brom's Nicholas Anelka
After a difficult time at Lyon with injuries and a fall-out with manager Rémi Garde, Lovren is enjoying his football once again. He couldn't have had a better Premier League debut at West Brom with a solid performance that even kept veteran Nicholas Anelka at bay. He has developed a very welcoming partnership with José Fonte so far and it's fair to say that Lovren has increased the Portuguese's confidence sky high. Their performances against Liverpool on Saturday proved that, along with Lovren scoring the all-important goal that earned Southampton their first win at Anfield since 2003.
Lovren, who co-owns his own clothing company, has already praised the St. Mary's faithful on Twitter on plenty of occasions, including his amazement at the travelling support at West Brom. From his tweets, everybody can see what a family man he is and certainly enjoys having banter with his team-mates. On the pitch, he will be looking to continue his inspiring form where newly-promoted Crystal Palace are the visitors to St. Mary's this weekend. With the wealth of experience that Lovren already has, he will certainly give the club a fantastic chance of challenging for a European spot come the end of the season.
With Lovren's remarkable start to life in England proving to be a popular trend, the Saints fans took to Twitter to express their opinions on the Croatian international:
@Will_Turner71: "He is the best thing since Michael Svensson. I can't praise him any higher than that."
@LukeTaylorTFJ: "A level above what we have. Another Michael Svensson in some sense. Intelligent and composed with a David Luiz esq passing style. And his passion is second to none. A leader in the making."
@RussellSFC: "He looks composed on the ball yet solid, a class above. Fonte looks more confident playing next to him too."
@BradleyyRees: "It's amazing how introducing just one new centre-back to the back 5 of last season can reduce the goals conceded so drastically."
@Miss_SaintsFC: "I think the saying 'cool, calm and collected' sums him up very well. Just what you need in a defender!"
Even West Brom fan Dan Cannon (
@DANWBA125
) praised Lovren on his debut at The Hawthorns by tweeting: "On his debut against us, he was superb. Didn't put a foot wrong, strong in the air and has settled into the PL easily."